Morning my loves!
Here to do another "Universally Flattering Pieces" fashion post for you all. Before I did
five universally flattering pieces
, but this time I decided to do six. These are staples that every female should have in her closet -- now I'm not saying it's a must, but overtime you will acquire these pieces in your wardrobe at least once or twice.
Without further babbling -- here are the six universally flattering pieces...
#1 - Leather Cross-Body
This medium size bag works with you, whether you're petite, like myself, or tall. You can get it in a basic color such as black, white, gray or brown. You can even be outstanding with a neon, floral or printed cross-body. The straps aren't overbearing because they are thin. Perfect piece to own and I'm currently working on owning one myself.
#2 - Classic Peacoat
Just to state, I own 2 peacoats as we speak -- a basic gray one & a grayish black with blue & white strips. Peacoats are the coats that are just the right length to keep you warm in the fall and winter and the trim looks good on all figures. They are cozy and cute!
#3 - Long Cardigan
Cardigans that are long can lengthen your top half and the light knit won't be heavy or add bulk to your outfit. You can play these up with different colors, shades and prints. All depending on how you feel. I own a few long cardigans and a few short ones as well.
#4 - V-Neck Sweater
These silky cashmere skims feel great over your torso and the neckline isn't too low or high. These can you used as a layering piece or just worn to keep yourself warm.
#5 - Denim A-Line Dress
The cinched in waist highlights your smallest point and a fuller skirt and three-quarter sleeves flatter everyone. It gives you the added pop of "
pzazz
" without being overbearing.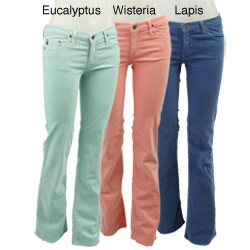 #6 - Bootcut Corduroy Pants
These slightly flared legs and a medium-low rise will balance out curves and the structured fabric doesn't cling. It keeps you warm. Can be styled with any shoe.
Personally, I don't own the last 3 items, but I plan to someday!
Do you own any of these pieces?