Join #WipeForWater this Earth Month.
Do you know that every day you can waste up to 5 gallons of water just by washing your face? This Earth Month, Neutrogena® Naturals is partnering with The Nature Conservancy to save water. So get involved. Pledge to clean your face without using water.​​
You Pledge. We Give.
For each pledge, Neutrogena® Naturals contributes $1 to The Nature Conservancy to support water conservation, up to $50,000. Take the pledge and share the impact of your water savings.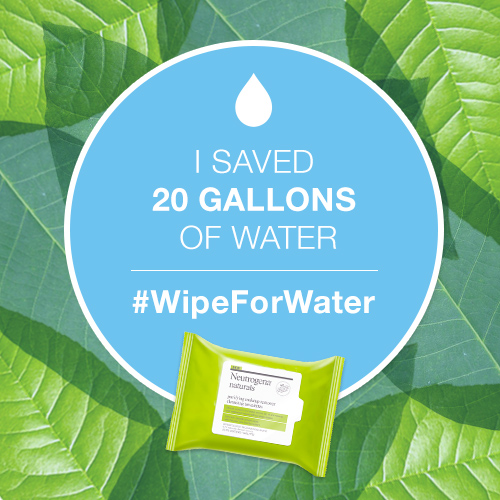 I joined in and decided to pledge to 4 days of only using the Neutrogena Naturals wipes to cleanse my face.
Neutrogena Naturals Purifying Makeup Remover Cleansing Wipes
:
Let us help keep your face clean.
We know it's hard not to wash your face, so let us make it easier for you to keep your face clean. Try Neutrogena® Naturals Purifying Makeup Remover Towelettes. They are made from 100% renewable fiber and are clinically proven to completely remove dirt, oil and makeup, even waterproof mascara with no greasy residue. No Water necessary.
My Thoughts
I normally shy away from makeup remover wipes because of the price and quantity, but I must say these wipes have honestly changed my opinion on makeup remover wipes. I have had these wipes for a few a days and I absolutely love them. They are smooth on my skin and no matter how harsh I wipe they don't irritate me. My eyes don't get watery either which is an awesome thing for me.
I have used on various days to just clean my face of dirt and oil and I could see the dirt and oil on the wipe after cleansing my face. I've used it to remove a light amount of makeup (
brows, mascara, liner and lip color
) and it removed it with ease. I've also used it to remove heavy amounts of makeup (
full face with waterproof mascara and liner
) and it removed like a charm, however, I did have to use two wipes.
The Pros
the feel
the price
effective at removing makeup
not harsh, ultra soft
The Cons
NONE, just wish it could be a bit thicker
Overall Thoughts
I'm totally in love with these wipes. They clean my face just as effectively as if I used my normal cleanser. I will be using this a lot more in the summer as a morning cleanser when I'm not wearing a ton of makeup. I definitely need to find these at Costco or BJs and keep a bulk size in my house!
How Does My Face Feel
Day 1 - Refreshed. My face felt very refreshed after wiping my face with the wipe. It didn't feel excessively dry.
Day 2 - Clean. My face was very clean after using only one wipe. I didn't feel the need to go in with a moisturizer, but I did.
Day 3 - Renewed and less oily.
Tips
If wearing a ton of makeup use a cold cream or eye makeup remover to help ease so that you only use one wipe instead of 2 or 3 wipes.
Don't rub too hard, you can possibly rip the wipe.
Use both sides of the wipe for maximum usage.
Overall, I'm excited that I joined in on #WipeForWater and I have one more day to go!
~ Disclosure ~
I received this product complimentary for testing purposes from Influenster.
I am not being paid.
These opinions are my own.